Hi troops, miss me?  Apparently you have since this site now appears to go months without a new post....oh well

Looks like the time of year the Coast Guard releases recreational boating data....NH and the Winni speed limit crew does not appear to be doing well at all...a steady rise in accidents since the law in search of a problem went into effect....accidents went from 40 in 2012 & 2013 to 44 in 2014, up to 53 in 2015 and then jumped to 76 in 2016...the fatality rate more than doubled from 2015 to 2016. 4.3% to 9.5%

But wait, Mr Wizard, wasn't the speed limit supposed to end all the problems on the water?

Well little squirrel, that's the fabrication that those powerboat haters spread, but as you can see it is not true.

Feeling safe now that those big bad boats travel slower?  

See you next year.  Out.

_________________
America is one nation under God, indivisible, with liberty and justice for all. Not just for people who look or worship a certain way.



Posts

: 709


Reputation

: 0


Join date

: 2013-04-10



Well little squirrel...but again where is the breakdown for your stats that include all of NH's 1000 plus lakes AND the ocean? Talk about fuzzy math! Are you sayng a SL on Winni was supposed to end boating accidents all over the state? And was the SL supposed to end accidents caused by wake jumping jet skiers, irresponsible tubers, hapless fishermen, and skiers injured by boats going in reverse (that one actually happened)? So show us the Winnipesaukee data.



Posts

: 159


Reputation

: 0


Join date

: 2013-08-09



Well, I didn't think anybody even bothered to check this forum any more. But I guess somebody does.
Admin




Posts

: 6045


Reputation

: 11


Join date

: 2013-01-14



There's a new boat on The Big Lake: it has four huge outboards, and requires a six-wheel trailer to allow it to "visit" Winnipesaukee.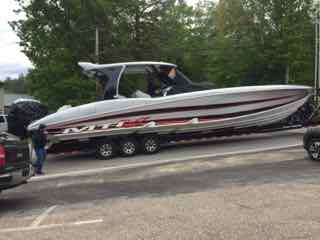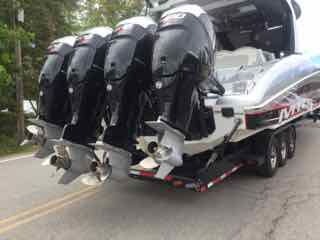 Even the trailer is oversized. 'Wonder where the owner has found the space to park it?

Four hundred gallons of gasoline on board.
Does that work out to a gallon a minute?

Will the NHMP give him a pass WRT the speed limits?




Posts

: 7991


Reputation

: 9


Join date

: 2013-01-16


Location

: Winnipesaukee & Florida





Similar topics
---
Permissions in this forum:
You
cannot
reply to topics in this forum