So the people of Egypt took over. He didn't do what he said he was going to do-----so the people there don't fool around.

WHL

Admin




Posts

: 6057


Reputation

: 11


Join date

: 2013-01-14



Egyptian Republican Guards celebrate after the military announced that they were removing Mohammed Morsi as president.

EGYPT'S President Mohammed Morsi is under house arrest after being toppled by the military, a Muslim Brotherhood official says.

Islamist President Mohammed Morsi, who had denounced the military's move as a "full coup", has reportedly been moved from his office at the headquarters of the Republican Guards to an undisclosed location.

Several of his aides said they had lost all communication with Mr Morsi and do not know what his status is.

Egypt's military chief Lieutenant-General Abdel Fattah al-Sisi announced Mr Morsi's removal on state television earlier today after a week of bloodshed as millions of Egyptians took to the streets to demand an end to a turbulent year of rule.

Security forces have arrested two senior leaders of the Mulsim Brother hood who are close to Mr Morsi. The website of the official Al-Ahram newspaper is also reporting that the military has ordered the arrest of a further 300 Islamists.

Obama urges swift return to democracy

Saad al-Katatni, who heads the Freedom and Justice Party -- the political arm of the Muslim Brotherhood -- and Rashad Bayoumi, the deputy head of the Islamist movement were detained, the officials said.

US President Barack Obama has voiced ''deep concern'' over the Egyptian military's move against their elected leader and said he had ordered a review of US foreign aid to the nation

.

http://www.theaustralian.com.au/news/world/egyptian-president-mohammed-morsi-under-house-arrest-after-ousting/story-e6frg6so-1226673936045
This in spite of visits to the White House by the Muslim Brotherhood.

_________________
..."The beauty of being a liberal is that history always begins this morning..."

NH, is that saying that Obama wanted to KEEP the Muslim loving dictator? Does that surprise you?

WHL

Admin




Posts

: 6057


Reputation

: 11


Join date

: 2013-01-14



Apparently, one pathetic last-minute speech by Eqypt's Mohammed Morsi was sufficient to convince President Barack Obama, who has spent several days and untold amounts of worldwide capital defending the Muslim Brotherhood leader's staying on the job in the face of what may have been the largest pro-democracy demonstrations in human history.
The Politico frantically tried to run interference for Obama opportunistic change of heart today, running an item which was apparently called "U.S. Eases Away from Egyptian President Mohamed Morsi." The item was up so briefly that it was quickly replaced, while the headline just mentioned still remains in the browser window's title bar:
Read more:
http://newsbusters.org/blogs/tom-blumer/2013/07/03/what-joke-politico-tries-run-interference-obamas-last-minute-morsi-switc#ixzz2Y4nhNvVT

fshnski




Posts

: 4223


Reputation

: 6


Join date

: 2013-02-04


Location

: Woofbura



Well, forget what I wrote about John F. Kerry "saving the day" in Egypt.
He was last seen aboard his yacht.
I'll have to do some research to see if he's still avoiding Massachusetts taxation by storing his yacht in Rhode Island.
Sign says "Game Over", and above, "Good Bye,
O'
Mursi".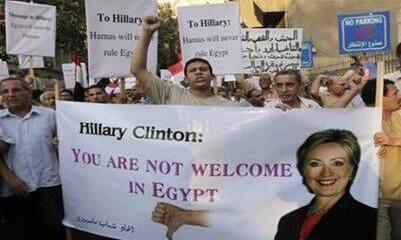 U.S. Secretary of State John F. Kerry — who spent the Fourth of July on sun-splashed Nantucket even as the chaos from a military takeover rocked Egypt — drew fire from Republican critics who said it's a bad time for the nation's top diplomat to be seen cavorting on an island getaway.

"It doesn't look good, and I think it sends the wrong message" said Republican strategist Brad Marston. "If I were advising him, I'd already have him on a plane."

http://media.townhall.com/townhall/reu/ha/uploads/2013/7/5/2.png
He just going lower and lower and lower.

WHL

Admin




Posts

: 6057


Reputation

: 11


Join date

: 2013-01-14



Are we in trouble yet?
Israel is in quiet, behind-the-scenes talks with top-level officials in the United States and in Egypt, aimed at coordinating strategies in case of spillover violence from the ousting of President Mohammed Morsi. Prime Minister Benjamin Netanyahu spoke Thursday with Secretary of State John Kerry on the telephone about possible policies."
Washington Times
---
Permissions in this forum:
You
cannot
reply to topics in this forum