Interesting that the Japanese (earlier) beheading victim is showing a photo of the (later) immolated Jordanian pilot from the same location!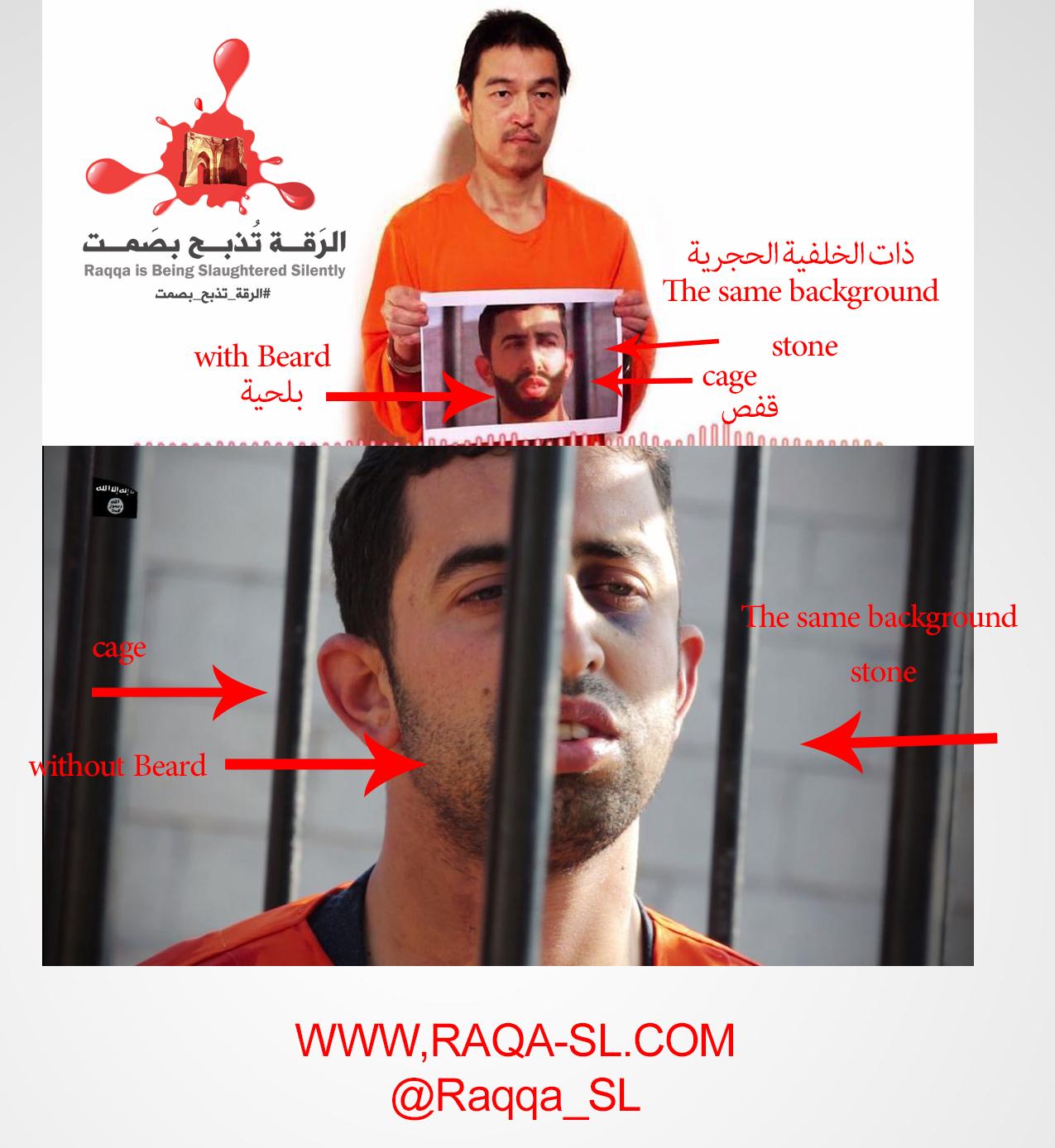 "Our commitment, our leadership is really required," Harvey said. "Jordan doesn't have the means and capability to do it themselves, although they have great insights and connections to tribes in southern Syria and western Iraq."Harvey doesn't have high hopes for Obama and his administration's response. "The administration is just going to paper this over

," he said. "

It's a political game

for them. They're going to announce some things, have some activity, and they want it to go back to normal.

"Their major objective is an Iranian nuclear deal and they're cozying up to Iran in both Syria and Iraq, and it is counter to our overall objectives in the region. It impacts our allies in Egypt, Saudi Arabia, Turkey and in Israel." http://www.Newsmax.com/Newsmax-Tv/King-Abdullah-Jordan-Kevin-Brady-Paul-Vallely/2015/02/04/id/622657/#ixzz3Qog8ar2O
That's what you get when "Leading from Behind".
.
The King of Jordan (center, Jordanian Air Force) has announced his raids on ISIS—Obama's "Junior-Varsity" team.
Then, there's the Choom Gang...
Some are destined for greatness. Some are destined to be community organizers.
There's conflicting data about whether the king (theirs, not ours) will be leading the airstrikes, or commanding a SpecOps battalion on the ground. Whatever the case, it looks like he is going in with the troops. (He's last been seen on a military transport).
Of course, OUR President won't know about it until he reads about it in tomorrow's
New York Times
.
.
Canadian Prime Minister Stephen Harper says Canada will expand its military mission against the Islamic State group to include airstrikes on targets in Syria.

Harper told parliament on Tuesday Canada will not seek "the express consent" of the Syrian government to launch the attacks. He said Canada must strike at the Syrian power base of the Islamic State militants.

"ISIS' fighters and much of its heavier equipment are moving freely across the Iraqi border into Syria, in part for better protection against our airstrikes," Harper said. "In our view, ISIS must cease to have any safe haven in Syria."

Canada would become the second NATO country after the United States to attack the militant group's positions in Syria, which have also been hit by jets from Jordan, the United Arab Emirates and other Arab countries.

Harper also said Canada's mission in Iraq in the fight against the Islamic State group will be extended by one year to March 2016.

Canadian warplanes have been taking part in U.S.-led bombing missions on Islamic State targets in Iraq. Canada has also deployed about 70 special forces troops to train Kurdish fighters in northern Iraq.
Still another leader showing the way...
.
Similar topics
---
Permissions in this forum:
You
cannot
reply to topics in this forum