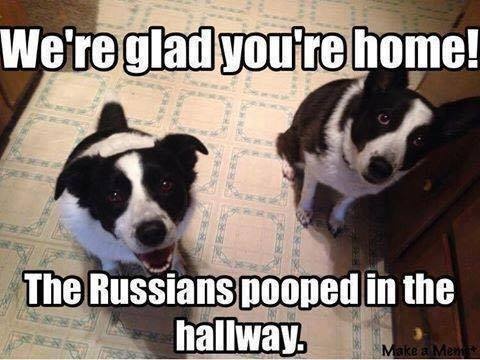 Last edited by News Hawk on Thu Jan 26, 2017 6:26 pm; edited 1 time in total

WHL

Admin




Posts

: 6057


Reputation

: 11


Join date

: 2013-01-14



Intel report on Russian interference finds no documents forged
While the report accused Russian President Vladimir Putin of ordering a campaign to influence the U.S. election and hurt Hillary Clinton's candidacy, it found that the material sent to WikiLeaks did not contain "any evident forgeries."

The claim that the emails may have been doctored or forged was raised by DNC Interim Chair Donna Brazile in October, when she was criticized for an email that surfaced in hacked messages from Podesta's account.

—Fox News Politics
So what was hacked from Podesta's account?
"The GAI investigative report says it's unclear how much, if any, money [John] Podesta made." Podesta, having served the Clintons for years, first as chief of staff to President Bill Clinton and then as counselor to President Obama and finally as Hillary's campaign chairman, deserved a payoff.

But it wasn't clear until the latest batch of e-mails provided by WikiLeaks went public last week that Americans now know.

For his efforts Podesta received thousands of shares of common and preferred stock in one of the companies involved in the transfer.

The fact came to light when WikiLeaks published e-mails Podesta sent to the company ordering it to transfer his shares to a shell corporation he had created a month earlier

.

The e-mails included a letter Podesta wrote to the corporate secretary of that company instructing him to retitle 33,693 shares of preferred stock to Leonidio Holdings, LLC, a corporation that Podesta (or one of his staff) created using a Corporation Service Company to hide the shares from public view.

The company that gave Podesta the stock shares, Joule Unlimited, claims to be a producer of "alternative" energy technology that will eventually be able to produce energy that will be competitive with oil priced at $50 a barrel. It was a recipient of millions of Putin's rubles as one of the gang of companies working to transfer American technology to Russia, one of America's enemies.
With just two weeks left of his Presidency, why am I reading this account?

U.S. tanks roll into Germany to bolster NATO deterrent against possible Russian aggression

BERLIN — Ships began unloading U.S. tanks, self-propelled howitzers and hundreds of other fighting vehicles Friday in the northern German port of Bremerhaven, to be moved into Eastern Europe to bolster NATO's deterrence against possible Russian aggression.

Some 3,500 troops from the 4th Infantry Division in Fort Carson, Colorado, will join up with the equipment, which includes 87 tanks and 144 Bradley fighting vehicles, over the next two weeks.

Fanning the flames of war to spite Trump?
The whole Clinton machine and anybody that is connected with them just stinks!!! If they were normal people they would all be in jail.

WHL

Admin




Posts

: 6057


Reputation

: 11


Join date

: 2013-01-14



'Russiagate' Is Failing And Its Supporters Are Getting Concerned
Zero Hedge
'

Russiagate' is failing and its supporters are getting worried...the leaders of the US security services have denied the President's allegation that they wire-tapped him –

though they were careful not to deny that they mounted surveillance on him

and his associates – the President's claim that they did, in effect smoked them out.

The single most important fact about the last few weeks, and the clearest possible sign that the 'Russiagate' scandal is flagging, is that there have been no more leaks from within the intelligence and security agencies....

That suggests that the former Obama administration officials, who I suspect were the people who were physically communicating the information in the leaks to the media, are no longer being fed information about Donald Trump and his associates or about the progress of the FBI investigation by their sources within the intelligence and national security bureaucracy.

That could be because people within the intelligence and national security bureaucracy are being deterred by the investigation into the leaking of classified material which the President has been calling for but which the House Intelligence Committee hearing on 20th March 2017 suggested FBI Director Comey is resisting (almost certainly BECAUSE PEOPLE WITHIN THE FBI WERE INVOLVED in the leaks), or it could be because increasingly there is no damaging information to leak.
Wasn't it a statement by Evelyn Farkas (Obama Administration) that stated Trump was "spied on"?
.
Well, here it is, from YouTube:
FARKAS LAUNCHES INTO AN ENERGETIC DESCRIPTION OF HER STARTLING ACTIVITIES: Farkas energetically tells Mika/MSNBC, "I was urging my former colleagues and frankly speaking, the people on the Hill— it was more actually aimed at telling the Hill people get as much as you can, get as much intelligence as you can before Pres Obama leaves, because I had a fear that somehow that information would disappear with the senior people who left. "So it would be hidden away in the bureaucracy that the Trump folks, if they found out how we knew what we knew about their staff........"

Mika's only reaction to hearing a "former" government official was an accessory to conspiracy and collusion?

"A lot going on there."

Again, Farkas nods in agreement.

Farkas NEVER once admitted that at the time of these outrageous activities, she was working for Hillary's campaign.


.
Farkas left the Obama admin in October 2015 and yet she has no problem telling TV viewers she knew what took place in Nov, Dec of 2016.
.
I hope the truth comes out and something is done about it.

WHL

Admin




Posts

: 6057


Reputation

: 11


Join date

: 2013-01-14



---
Permissions in this forum:
You
cannot
reply to topics in this forum